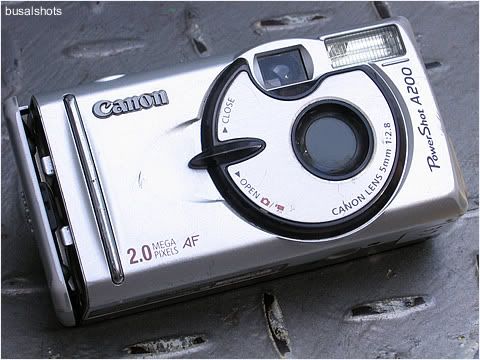 kung wala ka wala ito...
your inspiration helped me build this conservatory
you triggered me to fire them up
just like everytime your presence excites me
me and my canon a200 produced the pics from October 2004 up to the bug pics of June 2005. i don't know if she's really faulty or i was just too intense for her. its was less than a year when she lost an inner hook at the battery container area... i thought that it was tolerable since there's a mother hook that can still withstand the pressure. she's fine but little did i know that it would lead to further complications. until the unexpected happened...


while having a piktyur! piktyur! session at the the top of a known mountain she got too excited... she ran like wildfire in front of me, rushing down the hill with no one in control.


broken she was but still managed to get by with the help of my unyielding hands... she came up with more interesting photographs plus astonishing works that gladdened us.


it's no secret that she's slowly feeling it... much noisier pictures, newly charged batteries rejected and image viewing was a lot of hardwork.
we can't go on...